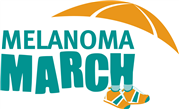 Joanne Simpson

Expires
Monday, 23 April 2012
JoJo & Buddies Melanoma Mission
This year my friends and I will be participating in the Melanoma March and would welcome your support.

The Melanoma Institute Australia hopes to raise funds to support research into prevention of Melanoma, finding better treatments for Melanoma patients, and ultimately a cure.

ALL donations you give go directly to the Melanoma Institute, so click on DONATE NOW!


Together we can prevent Melanoma and find a cure!!

Thank you for your support!!

JoJo, Kylie, Simon, Braith, Alyssa, Nicole, Kylie, Will, Bailey, Isabella, Glen, Sarah, & Brianna

Melanoma Institute Australia
Melanoma Institute Australia is dedicated to preventing and curing melanoma through world-class research, treatment and education programs. 

Australia has the highest incidence rate of melanoma in the world, and it's no wonder that melanoma is sometimes referred to as 'Australia's national cancer'. Over 11,500 new cases are diagnosed each year. Around 12% of those diagnosed, or over 1,200 Australians, will die of melanoma every year. Melanoma is the most common cancer in young Australians aged 15-39 and the third most common cancer in Australian men and women overall. 

The good news is that Australia is also leading the world in the fight against melanoma. 

Please help us find a cure for this insidious disease. Your support will raise money for vital melanoma research and contribute to our education programs. 

To find out more please visit our website www.melanoma.org.au
FUNDOMETER
Target
$1,000
Raised So Far
$1,055
Biggest Supporters:
Joanne Simpson: $100.00
Greg Dalton: $100.00